In response to Ron Vitale's wonderful guest post, I invited some of the other authors that have done interviews or been reviewed to do the same.  Of course up, first up to the bat is perennial guest poster on the Bookworm's Fancy, Mr. Richard Abbott.  If you are unfamiliar with Richard, you can check out his blog.
I am told that my love of reading goes back to before I can remember. Apparently, when I was at Miss Pears infants' school near my parents' home in Hampshire, England, I used to love books with maps. This is still the case! Anyone who has followed my reviews on The Bookworm's Fancy and elsewhere will know that I still either get excited by the presence of a map or disappointed by the lack of one. It's the same with my own writing – regional and local maps are pretty much the first thing you get to in In a Milk and Honeyed Land, and they already exist for the as-yet-unfinished Scenes from a Life. To abstract the point a little, I think that this delight with mixed-media presentation is actually behind lots of my choices – whether it be text-and-map, or prose-and-poetry, or word-and-image.
But back to my early days. Where a book had a map – such as Sterling Lanier's Hiero's Journey – I devoured it, flipping to and fro between text and map all the time. I made maps of Narnia, piecing together the ones that C.S.Lewis had already provided, and trying to reconstruct others from the text where they were missing. Of course Lord of the Rings was superb for this. Perhaps my most ambitious attempt was to paint on my bedroom wall a map of the beautifully described, but unmapped country described so well in E.R.Eddison's The Worm Ouroboros. I am told it took my parents several coats of paint and an eventual layer of wallpaper to cover it up when I left there a few years later!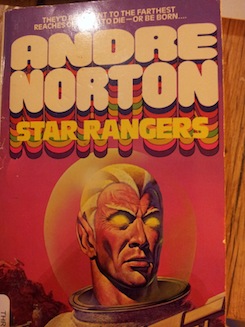 But Ouroboros did not make me want to write for myself – and when I found it recently in a second hand bookshop I was not nearly so taken with it as I used to be. The first book I can remember that made me want to write was Andre Norton's Star Rangers (ignore the garish cover haha!). As a young teen I was slightly demoralised by the [spoiler alert] sad ending despite the profoundly moving discovery of the Hall of Leave-Taking. In every other way, though, I was riveted by the story. So I sat there with pen and paper – no personal computers, tablets or smart phones back then – and started on a sequel which would get Kartr and the others back into space again. Perhaps mercifully, the couple of pages I wrote back then have not survived… but the experience of feeling I had something to say in writing, and the emotional thrill of reading something good enough to make me want to write… these have stayed with me to this day.

So what then? I spent many happy hours at Godalming library (the small town in Surrey where I spent my teenage years – I wish I had a photo to share) and exhausted pretty much everything they had which held my interest, mostly a mixture of science fiction and totally geeky maths and physics books, plus a fair sprinkle of history. Historical fiction was covered by standard fodder like Henry Treece's Viking trilogy and C.S.Forester's Napoleonic naval fiction. At that age I had not really got a sense of what I wanted to write about, or when it would be set. At some stage along the way I discovered fantasy, and the likes of Ursula LeGuin and Patricia McCillip took their place alongside Isaac Asimov and Larry Niven.
Fast forward a lot of years (tact forbids me saying exactly how many) and I was still in the same position – I would call a book good if it made me want to write, but there was nothing concrete to show for it. But finally I was spurred into action, by reading, and getting frustrated by, another work of historical fiction which caricatured the Canaanites as brutal and cruel individuals whose society was patently doomed to failure under its own ridiculous notions. The author had basically taken the most naive of literal biblical readings and ignored every principle of good textual interpretation, or indeed good biblical interpretation. I was really annoyed by this, and was convinced that I needed to write something which would make Canaanite culture credible. I simply do not believe that such a long-lasting culture would have lacked an internal logic and coherency, resilient against difficulty and with the mixture of fun and hardship that all of us face, together with personal and social strategies for coping with these. By that time, you see, I knew a fair bit about that place and time, and I wanted the Canaanites to have a spokesperson.
So… after a gap of a few years, and some long gaps representing failures of self-confidence, "In a Milk and Honeyed Land" emerged. Is it successful in giving a voice to the Canaanites who lived in Kephrath (biblical Kephirah) and the other three allied towns? Well, I think so, but others must decide for themselves.
So I have settled on a place and time I love to write about – every now and again I have a wild desire to write science fiction, but I can never seem to get a good plot together. But my reading delights have stayed firmly with a mixture of science fiction, fantasy, and historical fiction – even now I can't get very interested in reading contemporary stuff unless it has a real draw for some other reason. I wonder what that says about me? Hm, he likes the future, things that he knows are not real, and the past, but doesn't get much kick out of the things of here and now…
What led me to love books and reading? First of all, the discovery that words were enriched by other forms of presentation, especially maps, secondly being encouraged to explore books from an early age at home and school, and thirdly a public library system that gave access to a great many books.
Related articles