Well bibliophiles, Richard Abbott over at Kephrath is back with another guest review.  His book "In a Milk and Honeyed Land" is available on Amazon.  You can visit Richard's website by clicking here.  Did you know that he also designs games for your mobile phone/tablet based on ancient games?!  Seriously, Senet is addicting.  Really addicting….

Coachman by Sue Millard sat in my kindle to-read pile for too long while I worked through other commitments, so I was very glad to finally open it. I was not disappointed, and have no hesitation in saying that this was a five star book for me.
St Paul's from the entrance to Foster's Lane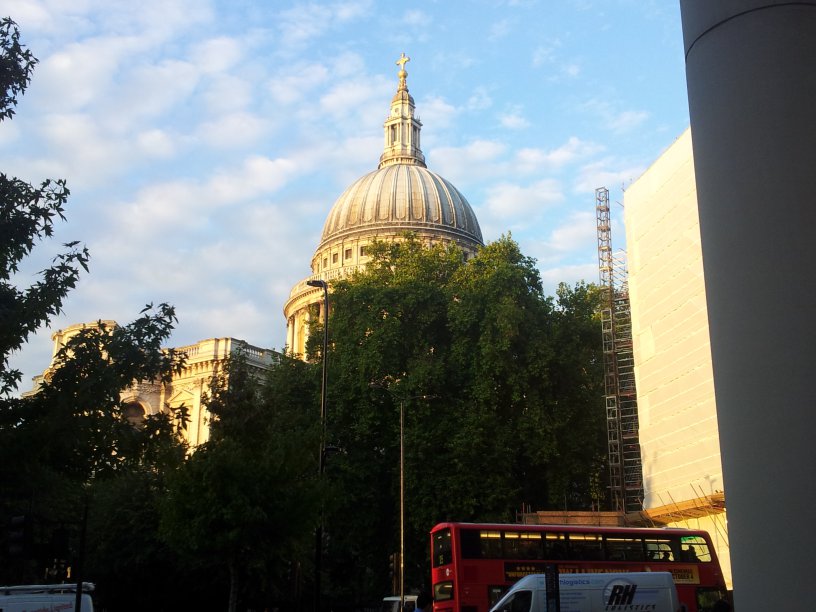 The background is one that I know something about from O-level history classes many years ago- the huge changes that came over England that were triggered by the Industrial Revolution, and in particular by the spread of the railways. Britain, along with the rest of Europe, was facing rapid changes in all aspects of society. Sue captures this transformation through the eyes of George, a young man from the north west of the country who comes to London in the late 1830s to make his fortune.
His story, like that of many others, was complicated by disruption in the social and political landscape. For George, and many others, events did not turn out as they had expected. In his case, the formerly lucrative occupation of coach driver, a skilled and respected trade, was demolished within a decade as the new railway lines systematically captured both passengers and the mail business, putting established firms out of business and labourers out of work. Coachman is set in that decade.
Now, part of my fondness for the story comes from its setting – I know Carlisle (where the story opens) and Kendal (where it ends) a little, and the London scenes are about 5 minutes walk down the road from where I currently work. So there was the fascination of familiarity, and I took the time before work one day to wander down and see what those roads and lanes are like now.
Love Lane today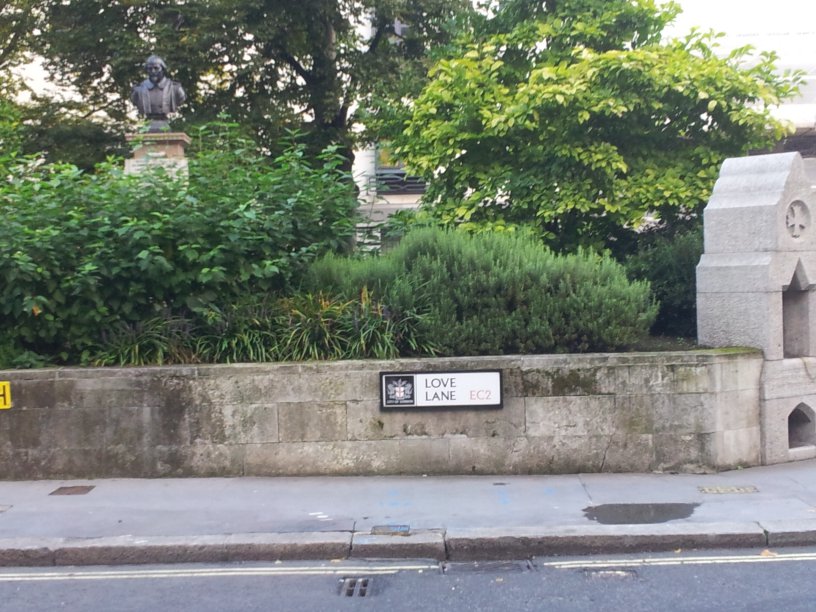 That in itself was fascinating – the basic map is largely unchanged, a slightly bewildering mix of broad thoroughfares and narrow alleyways. The area is just inside the old Roman city walls, though even by George's time these were of no importance and had been largely cannibalised for other building works. Less than a century before his employment here, the Moor Gate was an impressive structure, but it was removed in the 18th century to allow greater flow of traffic – a problem that that part of London still faces today as the building of the Crossrail transport line causes road closures! Moorgate is now just a junction with traffic lights, and only scraps of the Roman wall can be seen nearby.
The layout may be much the same, but the better part of two centuries of building work and bombing have taken a heavy toll on the buildings that were once there. The coaching inn, The Swan with Two Necks, which is a key location in the book, has long since gone, replaced by an impressive modem tower block. But the church of St Vedast's, where George marries his sweetheart Lucy, is still there, and you emerge from the confines of Foster Lane to the grand sight of St Paul's just over the road. Love Lane, a haunt of loose ladies in the book, is now a pleasantly peaceful garden tucked back from the Guildhall and the towering financial buildings. Great stuff.
St Vedast's church just inside Foster's Lane
I also loved the detailing in Coachman. George spends a fair time playing cribbage with a friend (himself a fascinating character). Now, cribbage is a card game with a distinctive score board which I was taught as a child by my grandmother, in rural Norfolk. In Norfolk we called it just crib, but it's the same game. Rural English dialect is used sparingly, and very effectively, in the novel to locate characters socially as well as geographically.
Most of the characters worked for me, although I was not persuaded by the character of Sarah. It seemed to me that Sue had tried to include too many different and conflicting impulses in her, and (for me at least) the end result was unconvincing. But all the others stand out in my memory as vivid and credible, and while walking along Gresham Road (formerly Lad Lane) it was easy to imagine them treading those same streets back in the 1830s.
All in all, Coachman has been a very satisfying book to have read, and I have no hesitation recommending it to anyone interested in the changes Britain faced in the mid-19th century, as seen through the eyes of one man from the provinces.